Loans of up to £5000 with no hard questions - That's Easy!
100% no upfront costs
Representative example of rates, amount borrowed £1500 over 12 months, rate 99% pa (fixed), 12 repayments of £201.63, total repayable £2419.56 representative 99% APR
Easy Payouts
On average, once a loan has been approved. Payments will usually be made and with the borrower within 25 minutes.
Easy Repayments
On average, once a loan has been approved. Payments will usually be made and with the borrower within 25 minutes.
Easy Support
If you get into problems with any aspect of your loan, we are here to help and work with you to come to a solution.
EASY ANSWERS
As you would imagine with this site, we won't make things hard for you. To apply for a loan is simple and straightforward.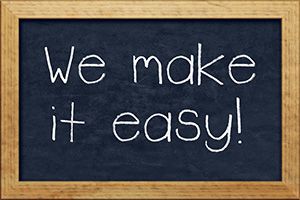 Easy Loans - Unsecured and No Guarantor Needed
We dislike paperwork the same as everyone else. That's why we don't ask for any, nor do we ask for someone to guarantee your loan.
Not Just For Bad Credit
Our brand suggests that we just help those with poor credit - this is far from the truth. Whilst it is true we welcome applications and help those with less than perfect financial pasts, we also offer competitive rates on prime applicants.


Whilst we only have one application form, it allows us to get a insight into the risk that each borrower brings when we decide what rate of interest to charge. We will then put a real offer to you - including amounts and rates - and you are free to accept or reject it at any time.


We make our own lending decisions in most cases. We no longer offer Payday Loans ourself, but we have lenders on our network who are able to make offers to those looking for a more short term solution.
Find Out More
Easy FAQ's
answering all of your questions
We are aware of people cold calling people whilst claiming to be working for us at Easy Loans. They will inform people that they have been accepted for a loan, but to get that loan they will need to send an up front payment to them. Needless to say that these people have no connection with this site. None of our staff perform cold calling, ever.


The reasons they give for requesting payment changes every month, as does their method of receiving payment. It used to via UKash vouchers, recently it seems to be iTunes vouchers. On rare occasions they have asked for payments to be made to UK bank accounts.


We urge people to not pay them any money. No legitimate lender in the UK will ever ask for payment upfront. Never pay anyone, ever.